Ola High School senior Alyssa Sherling has something extra to cheer about this year.
She was announced in November as the Georgia Cheerleader of the Year by the Georgia Cheerleading Coaches Association after competing in August. She was one of 118 eligible seniors from across the state nominated by coaches last spring and learned in the summer that she had made the field of 40 that would compete for the title.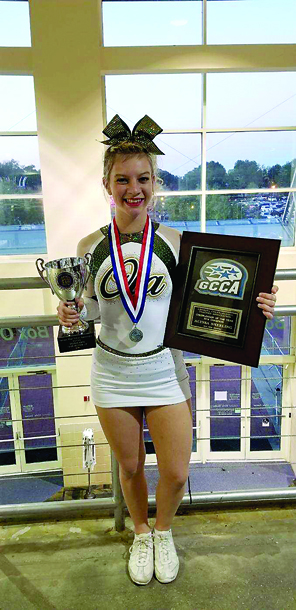 The event in August at Columbus State University consisted of interviews as well as routines. Athletes were judged on academic performance and community services as well as cheer ability, and there is a minimum grade-point average threshold to even be eligible, according to Ola coach Stacey Schmuhl. "It's about the all-around student athlete," she said of the award.
Cheerleading squads compete by classification in Georgia High School Association events every fall, but the GCCA awards this single award for all classifications. It was presented at the GHSA competition.
Having learned a month before the GCCA competition that she would be participating, Sherling knew there was really no way to prepare specifically for the event. "You just kind of perform what you've been doing you whole cheer career," she said.
One obvious difference from her usual cheer experience is the individual nature of the competition. She did her routines on her own except for her stunt, for which she solicited the help of five of her Ola teammates.
Sherling is in her 14th year of All-Star Cheerleading, having started at the age of 4. In addition to high school, she is a member of the Stingrays All-Star program in Marietta, which she pointed out is a cheerleading equivalent to travel baseball.
Typically the All-Star program ends at the age of 18, but she is on an international open Level 6 squad of which all participants must be at least 17. That team competed last year at the international competition in Orlando and hopes to do so again this coming year.
Her top college choice is the University of Kentucky, which she said has perhaps the best cheer team anywhere. She has been accepted there as a student and will try out for the squad in a few months. Other tryouts on her agenda include the University of Georgia and Baylor University.
As if cheering doesn't keep her busy enough, Sterling is dual-enrolled and attends classes two days a week in Newton County through Georgia State University, and she works at Truett's Grill in McDonough. She plans to major in biology with the goal of being an orthopedic surgeon.
She has met a few people in that particular medical field over the years. Her cheer-related injuries over the years include a torn ACL and meniscus as well as a broken ankle and a broken arm. "I'm cheering on a sprained ankle now," she said, almost shrugging as if it comes with the territory.
Obviously, she doesn't plan to let it slow her down.