Southern Crescent Habitat for Humanity will join forces with Team Depot on March 15 to build an accessibility ramp for Bradin Maddox, the son of fallen Locust Grove Police Officer Chase Maddox.
Officer Maddox was killed in the line of duty on February 9, 2018, while serving a warrant with two Henry County Sheriff's deputies, who were also wounded in the incident. Just four days later, Maddox's wife Alex gave birth to their second child, Bodie.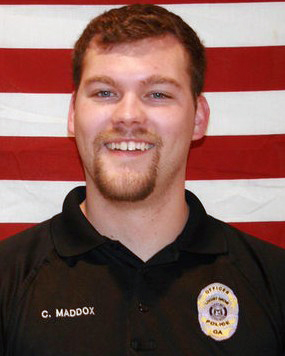 Maddox's older son, Bradin, has cerebral palsy and limited mobility. The officer's death resulted in an outpouring of support from area residents.
Cynthia Jenkins is the chief executive officer for Southern Crescent Habitat for Humanity. She said the group's latest project is part of an effort to help the Maddox family to cope with their tragedy in a meaningful way.
"Gratefully, Team Depot, The Home Depot's associate-led volunteer program, has chipped in to fund a portion of the project to make this home barrier-free for Bradin," said Jenkins. "We hope to receive additional funds to complete the needed accessible ramps, bathroom modifications, and chairlift. We serve veteran-families and seniors who need these kinds of home repair every day. We know that the community will help us meet this needs of this family and others in South Metro Atlanta."
Team Depot contributed $10,000 in gift cards to jumpstart the project. The Home Depot Foundation followed up the donation with one of their own, in the same amount.
Employees from various Home Depot stores will join Southern Crescent staff and other volunteers Friday morning at the Maddox family's Griffin residence. The organization aims to generate additional community support to complete other renovations at the Maddox home. For more information, e-mail development@schabitat.org or visit www.gofundme.com/thechasemaddoxproject​.