Darlene Campbell of Hampton loves driving her school bus.
For more than four decades, she has worked to build relationships with the kids she takes to and from school, and with their parents as well.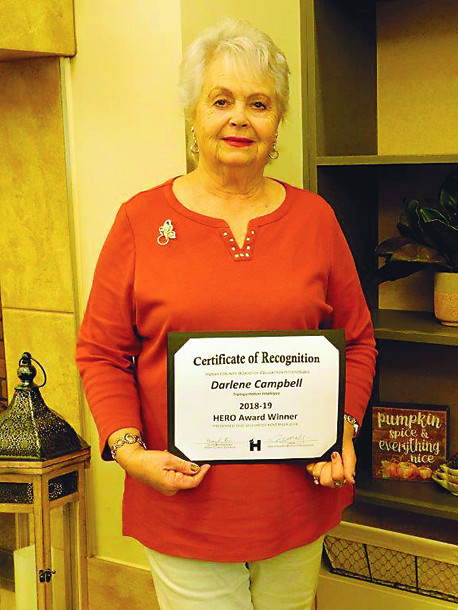 It was that combination of training and compassion that resulted in the her receiving a HERO award from the Henry County Board of Education.
HERO is an acronym for "Henry Employee Recognition Observance." Campbell earned the honor for helping a student on her bus who was in the midst of a medical emergency.
"I was surprised because I was just doing my job," said Campbell, 73.
Campbell has worked as a bus driver in Henry County for 42 years, and currently transports special-needs children to and from school every day. In late October, she encountered something she had never experienced in her time as a driver.
Campbell had to administer medicine to a high-school student on her bus who was having "a bad seizure" on the way home.
"I have a monitor on with me, and she was watching him and said he could be having a seizure," said Campbell. "I pulled off on the side of the road and got him to the back of the bus. I had to work fast."
Campbell called for help for the student, whose name was not released. She was met at the scene soon afterward by Hampton police and the child's mother.
"By the time the mom got there, I had already given him the medicine and he was coming out of it, thank God," said Campbell. "He was able to walk off the bus.
"I had to take care of the child "I had to take care of the child and keep him going," she continued. "I was just glad it turned out like it did."
Campbell, who has been married to her husband Wendell for 55 years, has three kids, eight grandchildren and seven great-grandchildren. During her career, she has built relationships with the kids on her bus, taking them to and from school or on field trips with their classmates.
She said some of those students have grown to have children or even grandchildren.
"The kids that I drove in the early years – my kids will see them, and they still ask about me after all these years," she said. "It's just been a joy to me. Now that I'm with the special-needs kids, I hardly ever miss a day because they expect you. They don't want any changes."
Roz Gibby is a special needs supervisor for Henry County Transportation. She commended Campbell for helping the child during the seizure.
"Her quick thinking in administering the medication helped him to avoid a worse seizure, for sure," said Gibby. "It stopped him from going to the hospital."
Gibby has worked with Campbell for 24 years. She described Campbell as an "exceptional" driver who sets the standard by which others can be measured.
"She's a role model for bus drivers," said Gibby. "She sets the bar high. She does her job with the safety of the kids in mind. She does everything by the book. She's a special lady and friend.
Campbell added that she is thankful for the opportunity to continue driving her school bus for the county.
"I can't see doing anything else," she said. "My husband says I'd do it even if they didn't pay me."